Next Level Goaltending is a collective of goalkeeper coaches founded in 2017 with the aim of developing floorball goalkeeping and goalkeeper coaching.
The guys behind Next Level Goaltending are former top level goalkeepers with almost a thousand played matches on F-liiga (formerly Salibandyliiga) and 1. division altogether and more than two decades of experience in goalkeeper coaching.
Playing floorball is different at different ages and levels. In floorball goalkeeping, however, there are certain common principles, which apply to all age groups and at all levels. Everything we do is guided by the standards of top level floorball. Already with younger goalkeepers teaching is done by explaining and justifying matters in detail in order to lay a solid foundation for the skills to be learned in the years to come.
Next Level Goaltending teaches goalkeeping, which is optimal for modern fast-paced floorball. Our goal is to coach both goalkeepers and goalkeeper coaches. In our philosophy the most important task of the goalkeeper is to maximize the probability of a save. On court all actions of the goalkeeper should strive for the maximisation of the probability of a save in the long run.
We operate primarily in Finland. From other countries, ask for a suitable coaching for you.
email: info@nextlevelgoaltending.fi
All the goalkeeper's actions on the field should strive for maximising the probability of a save in the long term.
The Goalkeeper Playbook
The English language version of The Goalkeeper Playbook is a unique and one-of-a-kind guide to the world of floorball goaltending. In this book we at Next Level Goaltending have put together all the relevant information and knowledge about modern floorball goalkeeping.
The Goalkeeper Playbook serves top-level goalkeepers, beginner goalies and everyone in between; as well as goalkeeper coaches and all interested in the topic.
In The Goalkeeper Playbook, the requirements of modern floorball goalkeeping are thoroughly explained, and the complex causalities of the game are opened, so that all bits and pieces can be analyzed and understood. A novel way of thinking in understanding the game will be formed by the 145-page book.
A unique 3D-tool for analyzing goalkeeping is included in the book. With this versatile tool individual game situations as well as the goalkeeper's game as a whole can be opened and analyzed. The development of the analytics tool derives from the needs of top-level goalkeepers, but it works just as well when it comes to younger goalies.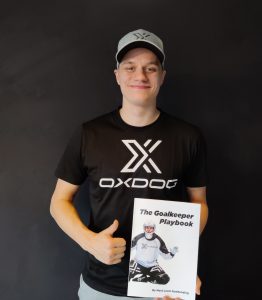 Joonas Kaltiainen, goalkeeper:
Team Thorengruppen & Finnish National Team
Oskari Fälden, goalkeeper:
TPS Turku & Finnish National Team